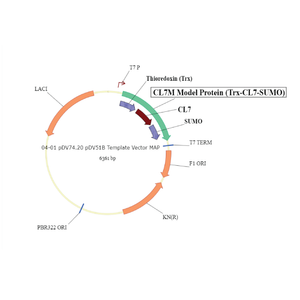 Plasmid #4 serves as a control; it encodes the CL7 model (CL7M) protein, which directly binds the Im7 protein immobilized on the Im7 Resin. 
SKU: 20-1004
EXPRESSION
Transcription is induced with IPTG and driven by the T7 RNA polymerase. The plasmid is designed for expression in E. coli. 
PEPTIDE TAG
For this plasmid, the target protein serves as the tag and binds directly to Im7.

CLEAVAGE SITE(S)
A SUMO domain is fused to the C-terminus of the CL7 protein. 
OTHER TAGS
A Trx tag is upstream of the CL7 protein.

EXPIRATION | 6 months from receipt when stored as directed
Plasmid Sequences are available on the Plasmid Guide Page
Use of TriAltus products falls under our limited license agreement and is for non-profit research use only. For commercial use, please contact us for licensing.