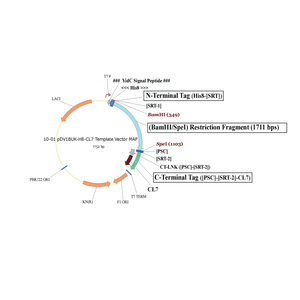 Plasmid #10 allows for the purification of membrane proteins. It includes an N-terminal His8 tag, a C-terminal CL7 tag, and an engineered signal peptide from the Bacillus halodurans YidC gene. Membrane proteins are inserted at the BamHI/SpeI restriction sites, where there is an existing 1711 base pair restriction fragment. 
SKU: 20-1010
EXPRESSION
Transcription is induced with IPTG and driven by the T7 RNA polymerase. The plasmid is designed for expression in E. coli. 

PEPTIDE TAG
Plasmid #10 contains a C-terminal CL7 tag that is downstream of both a PreScission protease (PSC) and Sortase A (SRT) cleavage site. TriAltus scientists find that Sortase A is less efficient than PSC at cleaving membrane proteins.

CLEAVAGE SITE(S)
Plasmid #10 contains two SRT cleavage sites, one downstream of the His8 tag and one upstream of the CL7 tag. The PSC and second SRT cleavage sites are incorporated into an 82-amino acid linker/spacer region downstream of the target insertion site. 

OTHER TAGS
An N-terminal His8 tag is located upstream of a SRT cleavage site.
 
EXPIRATION | 6 months from receipt when stored as directed
Plasmid Sequences are available on the Plasmid Guide Page
Use of TriAltus products falls under our limited license agreement and is for non-profit research use only. For commercial use, please contact us for licensing.